Since my brother moved out, we've had almost no furniture in two of the rooms in the house. But since people still visit, we decided we needed a bed for people to sleep on instead of putting them on the Aero Beds.
So we went mattress shopping and got this amazing deal on a new mattress. We looked at a few places before finding this: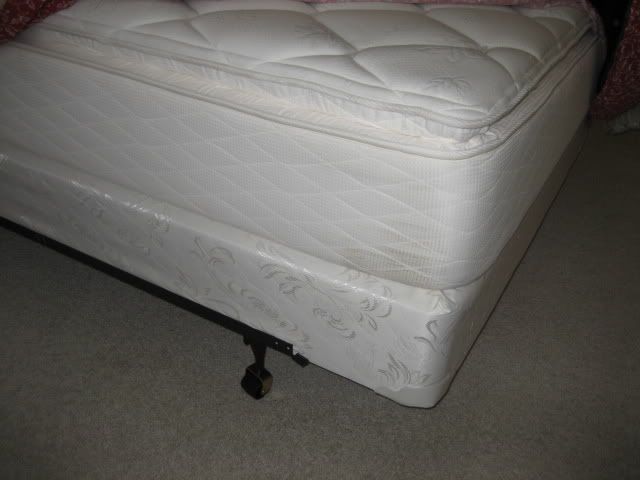 Before we bought that one, we were at Sleep Train and ended up putting in a C.O.D. order on a completely different mattress. Good thing we hadn't paid for that other one already because this mattress felt so much better. We ended up cancelling our Sleep Train order.
The one we ended up with is a Stress-O-Pedic brand, which we had never heard of before, but who cares when it feels this great? The mattress store was clearing out the 2007 models and all they had left was the floor model, which is why it's kind of dirty on the sides (but who sleeps on the sides of a mattress, right?). I sprayed it down with fabric spray first before putting sheets on it.
The pillow top is made from memory foam, so that's nice. I think
this
is the one we bought (pic
here
). It's normally a $799 mattress, but we got it for half price, including the box spring, frame (normally $35-45), and FREE delivery (normally $40). So I'd say that's definitely a sweet deal.
After our guests leave, we're gonna swap it with the mattress in my room. I can't wait! It's so much nicer than my old mattress. But for now, our lucky guests (my bro and sis-in-law) will get to sleep on it.